Discount Locksmith LLC, a 24 hour mobile locksmith service for auto, home and business, is now offering service in San Antonio, Texas.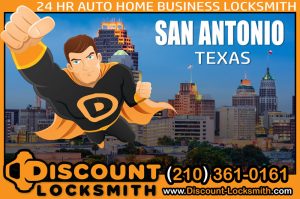 SAN ANTONIO – Feb. 9, 2017 – PRLog — Discount Locksmith LLC, a locksmith company based out of Mesa, Arizona, announced that they are now offering mobile locksmith service in the City of San Antonio, Texas. Discount Locksmith first started offering their services in January of 2016 and has been rapidly expanding nationwide. "We first started offering service in the Southwest where our corporate office is based in Mesa, Arizona." Says JP Drissen, CEO of Discount Locksmith. "We immediately saw demand for the service we provide and rapidly expanded our service area throughout the entire the Metro Phoenix and Tucson areas of Arizona." With the success and demand they received in Arizona, Discount Locksmith started partnering with locksmiths nationwide and is now offering their affordable 24 hour auto, home and business locksmith service in Iowa, Washington and now Texas.
Discount Locksmith LLC has partnered with some highly experienced and professional locksmith service providers in the San Antonio area and are excited to offer their alternative business pricing model and promotions to customers in the area. "What separates Discount Locksmith from most other locksmith service providers is our clear, up-front locksmith pricing business model." says JP. "Not only do we we offer internet specials with huge discounts of over 50% off regular locksmith rates, we publish our locksmith services price list on our website so that customers know exactly how much they are going to pay for their service with a clear breakdown of the costs."
Discount Locksmith is able to offer these discounted locksmith rates by changing their advertising methods. "More and more people are using and getting their information through social media. Instead of spending ad money on traditional advertising, we offer customers huge discounts and only ask that they share their experience on their social media pages." says JP. "We've found that customer satisfaction has increased." By using the power of social media Discount Locksmith is able to save money on advertising and in turn can save their customers a lot of money, sometimes hundreds of dollars. This provides the customer the same high-quality service for around half the price and this enables Discount Locksmith to generate sales through social media testimonials and referrals rather than traditional advertising methods."
Discount Locksmith LLC is continuing their national expansion of services and is currently seeking new locksmith partners across the US. If you are an existing locksmith technician interested in becoming a Discount Locksmith partner you are encouraged to contact them by phone or through their website for more information.
For more information about Discount Locksmith LLC and specifically their new location in San Antonio, Texas you can call or visit them online at:
Discount Locksmith LLC
In San Antonio and surrounding areas call: (210) 361-0161
http://discount-locksmith.com/locations/san-antonio-tx/
About Discount Locksmith, LLC
Discount Locksmith's corporate office is located in Mesa, AZ. All jobs are performed by technicians who are independent contractors. Limited warranty on parts may be provided by the technician. Discounted prices listed on the website available for customers who share on social media prior to the time of service. Customers who do not share on social media page prior to receiving service may be charged regular prices which may be much higher than listed discount prices. Contact a representative for more information.