Cabinet Lock Repair
Available 24/7 to repair and replace broken locks! Call now for immediate service with 15 minute response time*
Call Now for Fast Service
Desk and File Cabinet Lock Repair and Drawer Replacement Keys
Is your file cabinet locks broken, stuck or have a bent latch that prevents you from opening of closing cabinet drawers? Have you lost the keys for your desk drawer locks?
Our professional mobile mobile technicians can come to your office or home to repair your filing cabinet locks, storage cabinets, desk drawers and locked safes. Discount Locksmith mobile technicians are available 24 hours a day, seven days a week for file cabinet lock service, repair and replacement.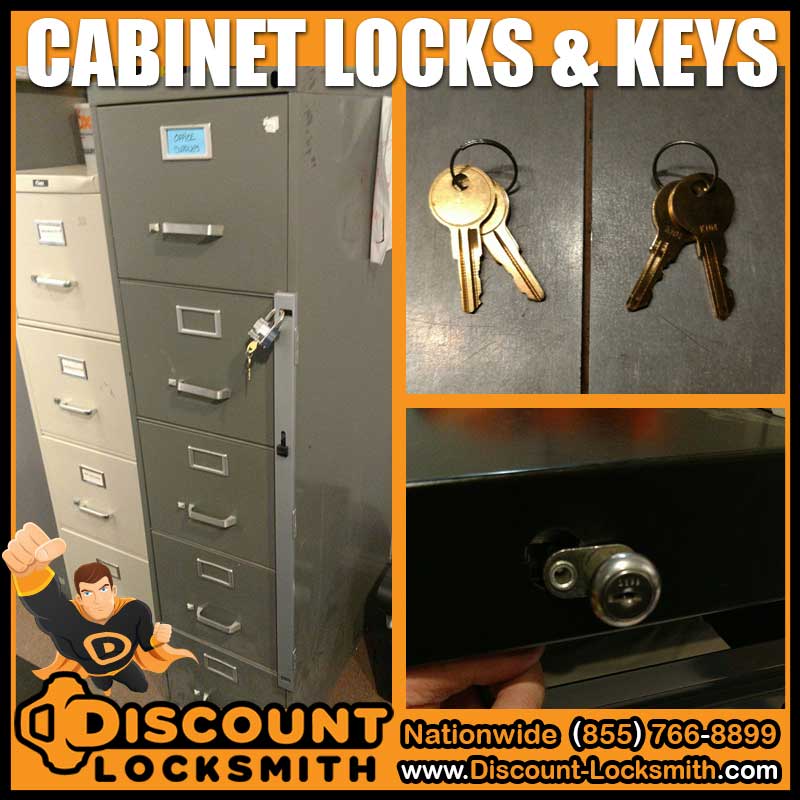 Do you have a broken file cabinet lock?
We can remove your file cabinet lock without a key and either repair the lock by rekeying it and making you new or duplicate keys or we can replace the broken file cabinet lock with a new lock.
Need to open a jammed file cabinet?
Through regular use, file cabinets can become jammed and unable to open or close due to bent locks latches or misalignment. We can service and repair your filing cabinet and desk drawers back into working order.
Lost filing cabinet key?
If you've lost or broken your filing cabinet keys or the if the keys and locks have become too worn out to work properly, we can make new or duplicate keys. We can also rekey the lock cylinder to work with existing keys.
No lock on your existing filing cabinets?
If you need to secure your existing filing cabinets that don't have locks there are a couple options available. Depending on the make, model and style of your file cabinets, we can either add drawer locks or we can add a cabinet bar that, when in place and locked, prevents cabinet drawers from being opened.
Do you have a stuck desk drawer?
Lost the keys to your desk drawer or have an old broken or worn out desk door lock? We can replace the lock on your metal or wooden desk drawers with new locks or rekey the existing drawer locks. We can also make you new or replacement drawer keys.