Broken File Cabinet Lock Repair, Rekey & Replacement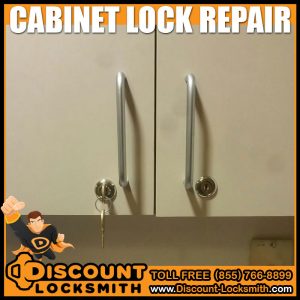 A lost cabinet key or broken file cabinet lock can prevent you from opening the cabinet doors or cause the file cabinet drawer to jam. You need to securely store office supplies or protect important home and office documents but what do you do when you have a stuck file cabinet drawer of lost the keys to a supply closet?
Do it yourself cabinet lock repair
Most storage cabinets, closets and filing cabinets aren't high-tech security. Most of us can figure out how to open a locked cabinet without the keys or pry open a stuck cabinet drawer with a little bit of force from a screwdriver. But can you do it without damaging the locks or any of the drawer rails? You may get it open but at what cost? Broken locks, bent metal drawers, bent metal latches and damaged hardware will compromise your security and could greatly increase the cost of having it repaired. There is also loss productivity with a loss of access while inventory and documents have to be removed and refiled into new cabinets and storage units.
Professional file cabinet lock repair, rekey and replacement.
Our professional locksmith technicians are available 24 hours a day and can quickly repair locks on storage units, hon file cabinets, vertical metal filing cabinets, storage lockers, office equipment and supply closets and more. We can repair the cabinet lock cylinder, rekey the cabinet lock to work with either your existing keys or make new keys. We can even create a master key system so that a single key can open multiple locks or limit access to only certain individuals or employees.
File Cabinet Brands & Cabinet Lock Brands
SnapSafe
Goplus
Stack-on
AMFFC
Fire resistant filing cabinet
Gun cabinet safe
Space Solutions
BARSKA
Hirsh Industries
LorellFireKing
Pemberly
First Alert
HON File Cabinet
TrippNT
Compx Cam Lock
StealthLock
First Watch
National Hardware
Olympus
Hafele