24 Hour Emergency Car Locksmith Lockout & Key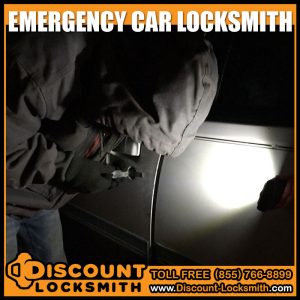 Locked out of your car? Broken door lock or need new keys fast? Discount Locksmith  technicians are available 24 hours a day, seven days a week to assist you in your emergency lockout and key vehicle needs! With fast 15 minute response time* our professional mobile car locksmith technicians can be at your location fast and have you cak in your car within minutes!
Open Locked Car Doors
You can do costly damage to your car if you try to open a locked door or trunk yourself which may lead to even high repair costs. If you try to open a car door with a coathanger you may damage your vehicle's paint finish, windows or the rubber seals around the window. Try to open a locked car door with a bobby pin or try and open a trunk or locked door with a screwdriver and you could damage the lock requiring even more costly repairs to the locks or even having have all new keys made. Contact a Discount Locksmith professional auto lock technician and we can open your door fast and easily without damaging your vehicle.
Make New Car Keys
Our mobile Discount Locksmith technicians can come to your location at home, work, parking lot or anywhere in an emergency or at a time that best meets your busy schedule. We have the equipment to make keys for all different makes and modes of ca. Don't take time out of your day to schedule an appointment at a dealership and pay their high prices. We can come to you and laser cut new high security car keys, program transponder keys and remotes, and make you a new or duplicate keyless FOB.
Emergency Ignition Repair
Car won't start? Worn out ignition? Don't get stranded, our technicians can help diagnose the problem and install or repair your car ignition coil. If your car ignition switch won't turn or  your car key won't turn the ignition switch, give us a call and we can help. Don't let a bad ignition switch or broken lock cylinder ruin your day. We are familiar with ignition switch problems and symptoms and can fix it for you.
Emergency Car Lockout
Available 24/7
Open locked car door
Get keys out of locked car
Car door service
Open locked trunks
Open locked glove compartment
Make New Car Keys
Aftermarket electronic car keys
Laser cut keys
High security car keys
Transponder keys
Program chip keys
New keyless FOB
Vehicle Ignition Service
Install new ignition switch
Broken key extraction
Repair ignition switch that won't turn
Ignition switch wiring